Benefits of Cork Products
The Benefits of Cork Products
We love to promote environmentally friendly materials which is why we are currently obsessed with cork products!
Why is cork environmentally friendly?
Since we love promoting environmentally friendly materials, we are currently smitten with cork! In addition to biodegrading completely, cork can easily be recycled without leaving any toxic residues behind. The process of producing cork does not harm any trees, making it even more impressive. The structure of cork makes this material extremely lightweight and easy to carry around. Some of the best reasons to use cork are that it's environmentally friendly, sustainable, and easily recyclable.
A few fun facts…
If you ever wondered how cork came to exist, let us explain. Cork is 100% organic and made from the bark of trees. Cork is most commonly known as a wine stopper. Not many know its other historic uses. The ancient Egyptians, Romans, and Greeks used cork for footwear, fishing floats, nets, and ships. Villagers also used cork to construct homes because it was insulating.
What are the benefits to Cork Products?
Environmentally friendly
Water-resistant
Durable
Versatility And Diversity
Lightweight
A few of our favourite cork products…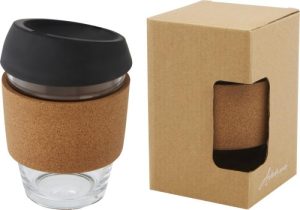 A quality sound and eco-friendly product – What more could you want? Guaranteed to make your business look and feel high end

If you love cork as much as we do why have a look through our merch site and brand your Business with our great selection of cork products
Stay connected with The Sourcer